Work Experience 2010.
This included editing Producer showreels for Comic Relief and Children in Need with FCP.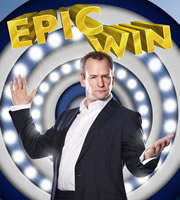 It also included working from a brief as I got to critique the pilot episode of new game show 'Epic Win' (which even at the time, I thought was horrible!). The pilot contained contestants like the 'human barcode reader' who was actually extremely bad at reading barcodes, the guy who could kick himself in the head a certain amount of times in 30secs and various other ridiculous "talents".
Aside from this bombardment of waste-of-space talents, I got to work closely with BBC1 trail producers with their showreels, became extremely familiar with ingesting tapes and logging timecodes, alongside general running duties such as collecting talent from reception. All within just 1 week!
I even got to sit in on some VA sessions and be part of the team who came up with alternative titles to the 'Prisoner's Wives' series. I also got to sit in PlayOut and talk to the guys in charge of broadcasting the golf championships. They were so bored most of the time bless them! It was all quite exciting!